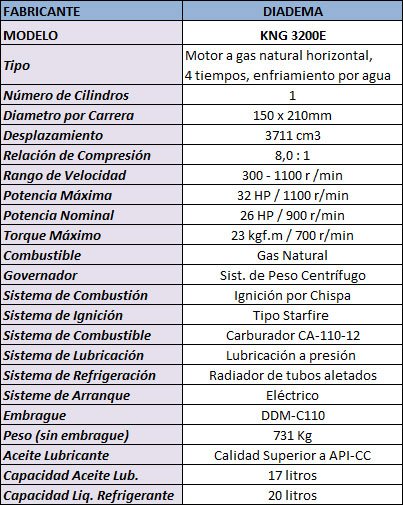 Natural gas engine for oil well pump service
The motor speed can be adjusted between 300 and 1100 rpm, with a maximum power of 32 HP. No other pumping motor is capable of offering the flexibility of this KNG 3200E model.
Main benefits and features
Wide speed range 300 to 1100 rpm; the largest of its kind.

Factory default electric start.

Covers starter motor in all models protecting from rainwater avoiding damage.

Security: Unexposed starter crown.

Low Operating Cost.

Reduced, easy and fast Maintenance in the well.

High Reliability.

Robust and heavy cast iron base to reduce vibrations.

High Durability.

Designed for Heavy Duty.

Outdoor use.

Optical Oil Level: Quick and easy to fill with the engine running.

EPA Certified.

Very low fuel consumption.

Cast iron base to absorb vibrations.

Oil filling device with engine running.

Paper air filter, light and non-polluting.

Welded tube radiator with sheet steel tank.

Oil viewer, for easy refilling.

Electronic ignition system.
Warranty
Only we can offer a warranty period of 365 days.
This means about 8760 hours of continuous operation. A revolution in warranties for operating engines continues.
All manufacturing processes are carried out in our own facilities, from the careful selection of raw materials, and under the strictest levels of quality control.